Customizing your GoS watch
---
Customizing your GoS watch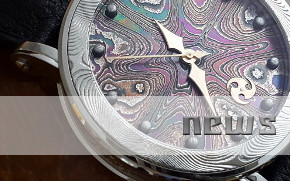 As you probably know, every GoS watch is a unique piece in itself since it is not possible to duplicate handforged damascus steel patterns or tempered coloring. In addition, we are glad to serve requests from clients who want to make their timepiece even more individualized.
We have recently finalized a new customization that we worked on during April-May 2016, which is based on a Winter Nights model. However, the appearance is quite different with its dark and colored dial and the separate index markers. The client had experienced an early GoS model "Lapland" that featured index markers in damascus steel, which he would like to see in his new watch. So, we combined the dial details from the "Laplan"d with the new hands and specification of the "Winter Nights" to end up with an elegant and bold unique piece.
We can merge different existing models in the same way to make an smaller version of the Aurora by applying the same esthetics as the Aurora model but in a watch with "Winter Night"s specification. Basically, we can make any Nordic Seasons theme in the new higher specification "Winter Nights", with its handfinished 150 hour power reserve movement.
---
Customized GoS Winter Nights watches